Guest collaboration with Tiffany Napper of the Upleveler Society
A vision board to grow your bank account?
Sounds radical, but stick with us here.
If you're ready to make 2022 your most successful and purposeful year yet, this blog is for you. With everything we've experienced over the last couple of years, it's perfectly normal to find the process of goal-setting overwhelming.
Sometimes the hardest part is getting started. So we've teamed up with business coach and founder of the Upleveler Society, Tiffany Napper, to teach us how to create a vision board that guides you and helps you bring your monetary and personal dreams to life this year.
Call it What You Like…
At the Upleveler Society, we believe magic happens when action and vision intersect. So if the word "vision board" feels a bit too "woo woo" for you, feel free to call it an "action board."
In fact, that is what medical doctor, executive coach, and author of The Source: The Secrets of the Universe, The Science of the Brain Tara Swart likes to call it, so you'll be in good company.
The next idea we need to normalize is that goal-setting can be done at any time. Your goals do not have to be set in stone on January 1st. And while there is no specific timeline you must adhere to, there are benefits to taking the time to reflect on your visions for the future. In other words, there's no time like the present.
What is a Vision Board?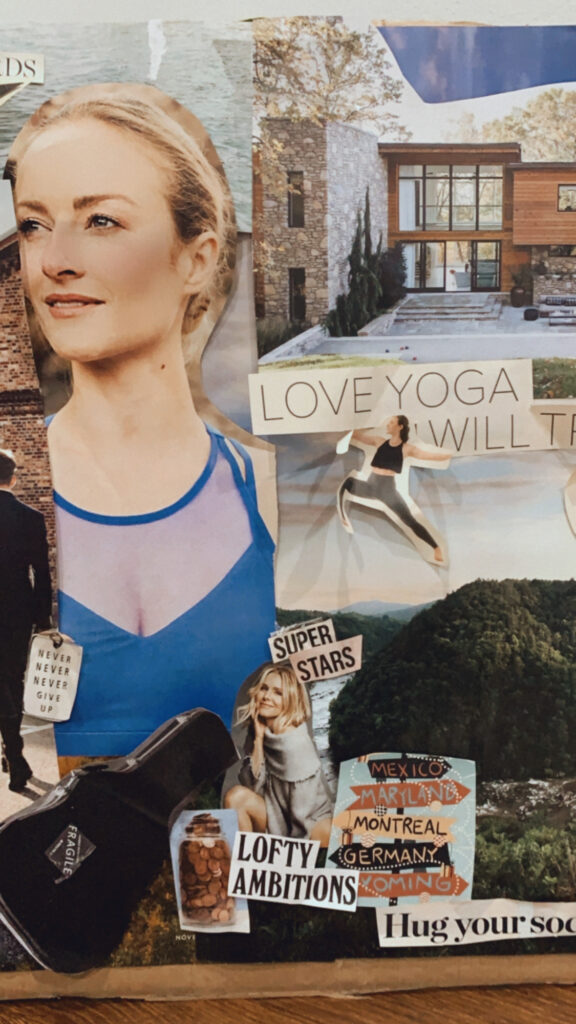 The most basic definition of a vision board is just this: It's a collection of images, quotes, and symbols that have meaning to you and bring out feelings of joy, peace, love, and happiness. The images represent your dream life.
Our aim is to create a vision board that will inspire you to take action, rather than something that will merely make you feel wistful for a life you're not currently living.
A study by TD Bank showed that 1 in 5 successful entrepreneurs use vision boards. Of these, 76% say that their business is now where they had envisioned it at the beginning.
That same study showed that 82% of small business owners that used a vision board from the get-go reported that they have accomplished more than half the goals they included on that board.
If you're ready to reach new financial goals, that feels like data that is hard to ignore.
The Benefits of a Vision Board
Did you know that the brain assigns a higher value to images than written words on a to-do list?
By creating a vision board, you are preparing the brain to grasp opportunities that may otherwise have been ignored or avoided. You are actually rewiring your brain. This remarkable capacity is referred to as neuroplasticity, and it allows you to train your brain for success.
So looking at images on a vision board is extremely effective at influencing your mind and harnessing your intention to bring about positive change.
And that's just the beginning. A vision board also increases clarity and focus and reduces doubt and stress. When we set goals for our lives or our businesses, it often requires that we do something new. Doing something new can trigger feelings of stress or uneasiness.
When you repeatedly look at images related to your goals, your brain no longer sees them as new. Your brain is familiar and has even grown accustomed to the idea, so it no longer triggers feelings of fear.
In 2017, I created a vision board with a photo of a woman from the cover of a magazine. I didn't know who she was at the time, but I admired her success and tenacity. One year later, that woman would launch a program, and she would become my mentor and friend.
There are other facets of that board that came to life for me – my home, the vehicle I drive, and the success of my business all bear an uncanny resemblance to what you'll find on that vision board. And I know that's not a coincidence.
Tips to Create a Vision Board that Works
Before we start creating our board, we have to get clear on the vision. Close your eyes and imagine your life exactly the way you want it. Go ahead and picture big, scary dreams. And don't be afraid to get specific.
What do you see in the 5 most important facets of your brilliant life?
Health and wellness
Relationships
Finances
Career
Travel and Fun
If you need a little help with this critical part of the process, click here for prompts to align your goals with your vision board.
Now, let's move on to the action steps.
Purchase a piece of foam board or poster board or cut out the side of a cardboard box to use as the base.
Find images that represent your vision. Use magazines and newspapers. Pinterest or online photography resources like Unsplash also offer an array of royalty-free imagery you can download and print. Clip and print until you have a big stash of images for your collage.
Personalize your board as much as possible.

Add a photograph of yourself that represents how you want to feel over the next year.
Add ticket stubs or fake airline tickets or anything that helps you visualize this vision board being your life.
Our personal favorite: take a screenshot of your HerBank bank account and edit it in an app such as Canva to show the balance you want at the end of the year. Add a few more zeros.
Add quotes and phrases that embody how you want to feel or that inspire you to take action.
Glue or tape your images to your poster board.
Hang your vision board in an area you frequent such as your home office or your coffee-making station in the kitchen. Some experts believe vision boards work best if you look at them right before you drift off to sleep, so by your bed is another great place to hang your vision board.
Tap into your feelings. When you look at your vision board, allow yourself to feel your vision.
In order to rewire the brain and engage in neuroplasticity, we need to activate the feelings of having that amount in our bank account, going on that trip and flying first class, or being in that dreamy relationship. Hold these feelings of joy and excitement for at least 20 seconds, or as long as you can. This will get easier the more you practice, so do it daily.
Visualize the steps leading up to the end result.
Visualize yourself doing the work required to grow your bank account, book the first-class trip, and meet your new partner. Don't just visualize the end goal – visualize the steps you need to take to get there.
Bonus Tip: Just finish it already! So many times we hear that people haven't completed or finished their vision board. Don't get caught up in perfectionism.
Set aside a few hours, and when that buzzer goes off, pretend like you're on an episode of Project Runway, put down your glue gun, and put your hands in the air. You can always add a few things here and there as the year goes by, so don't self-sabotage your dream life due to an unfinished vision board that is hiding in a closet.
Checklist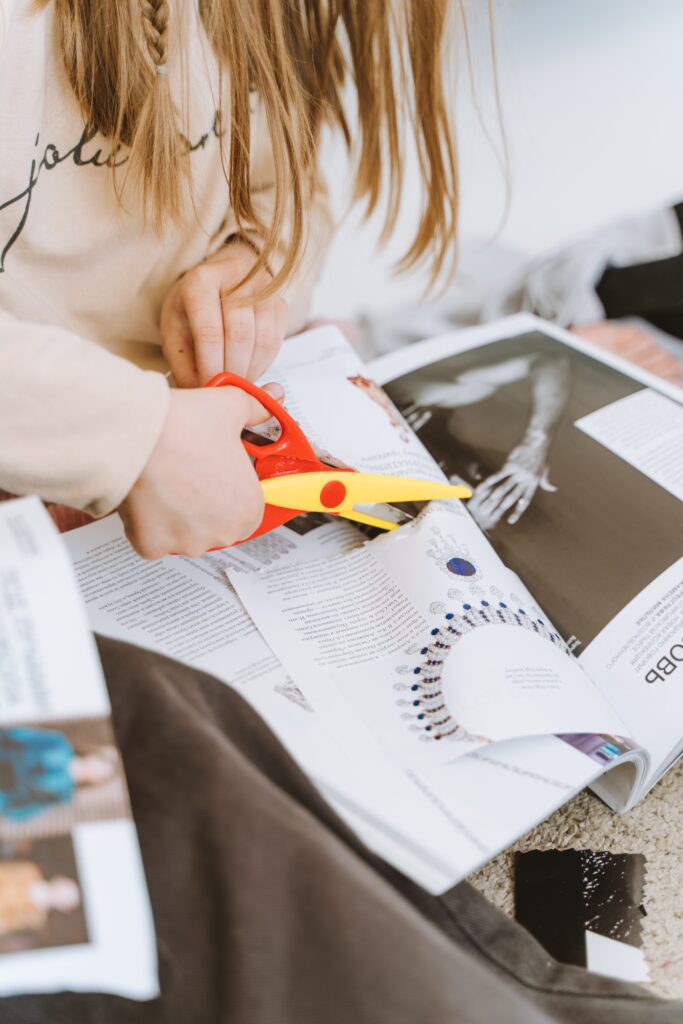 Now, let's talk about the supplies you need and a few ways you can make the creation process feel easy and fun.
You'll need:
Display board (posterboard, foam board, or cardboard)
Scissors
Glue sticks or double-sided tape
Magazine cut outs – lots of them
Images from sites like Pinterest or Unsplash
Inspiring quotes
Personal photo(s)
Trinkets, stickers
A check to yourself for the amount of money you wish to deposit this year or a print out of your bank statement edited to showcase your dream balance number
To create an inspiring and fun ambiance:
Gather a few floor cushions, pillows and blankets and your favorite candles or essential oils.
Break open a bottle of wine or make a cup of chamomile hot tea.
Set the mood with music. An upbeat playlist should do the trick. This one is great if you like upbeat pop tunes, or this one is fun and quirky.
If you'd like, you can practice a nice grounding meditation before you start your vision board to clear your mind and focus on your future.
Next Steps
In order for a vision board to actually impact your bank account and your quality of life, there is a critical next step you must take.
You have to go out into the world and take the steps that will move your business forward, improve your health and wellness, or allow you to develop deeper relationships.
You cannot just create a beautiful vision board filled with photos and trinkets that represent your ideal life, sit back and magically wait for it to all unfold.
You also can't expect it to all unfold overnight. You have to take one small step followed by another small step to move yourself towards your goals.
A vision board is a powerful tool that can propel you forward with more ease. Considering the stats and the science behind it, what do you have to lose? Carve out a few hours one night this week and create your vision board for 2022.
About Tiffany Napper
Nashville-based Holistic Business Coach and decade-strong entrepreneur Tiffany Napper specializes in helping ambitious, creative entrepreneurs turn their sense of overwhelm into inspired purpose. She's passionate about helping women build sustainable empires that bring them more abundance and joy.
Tired of witnessing talented, creative women put their dreams on the backburner – or worse, lose their spark because they were so far in the weeds – she launched the Upleveler Society in 2020, a supportive community for creatives who feel bound by exhaustive to-do lists or paralyzed by ideas that feel unachievable.
Learn more about her coaching offerings or join the Upleveler Society membership today.
---
Her Bank is a brand of Legends Bank. To discover the Her Bank experience, follow us on Instagram, Facebook & LinkedIn.